Kim Deal created a hobby band 1990 together with Tanya Donnelly from Throwing Muses. They called the band the Breeders and the other members were Josephine Wiggs and Shannon Doughton. Why they they decided to have the name the Breeders I don't know.

Tanya Donnely couldn't get along with the leading person in Throwing Muses, her stepsister Kristin Hersh, and therfore she created a band on her own called Belly. I like Belly's music very much and it resembles more about Throwing Muses than the Breeders. Donnely also performed as a soloist, but I haven't heard anything more about that. Together with these projects she tried to have some time for the hobby band the Breeders.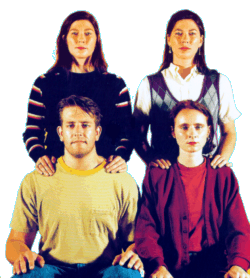 On the second album Last Splash Donnely and Shannon left the group and instead Kelley Deal and Jim Macpherson joined. Kelley and Kim are twin sisters and I think they have about the same idea of music. The first (originally) formation only played on the Breeders' first album Pod. And it was still just a hobby project, but becoming more serious. The Breeders doesn't exist anymore, although they made two shows in the end of December 1996 in San Fransisco. I can just hope that they will get together again and make another album!

I have found the following information in the magazine Breeders Digest. It's not much, it's not useful and I don't think it's even worth reading. Don't ask me why I included it, because I don't have the answer.

Kim and Kelley Deal started to sing early in their lifes, as many other artists. When Kim and Kelley were four years old they could sing every word from the movie Oliver. They would sing along with the record. Same goes for The Sound of Music.

Kelley is about six minutes older than Kim (if anyone would be interested to know). And Mr. Deal often listens to Ray Charles in his headphones during Breeders shows.


The official Breeders page with a lot of information.


Discography and short information about the band.


The unofficial Breeders page - as good as the official!


The Amps, Kim Deal's band. Sounds very good!


An Amps page with lyrics, tabs, articles, etc.


The Kelley Deal 6000, Kelley Dealīs new band.


Warm Wires, a band with Carrie Bradley.


Real Lulu, with drummer Jim Macpherson.


write to me!