True Love
Marching Girls
Cooke / Perry / Munro
Recorded by The Marching Girls in Melbourne for their single. Reached number 35 in NZ charts.

Ronnie Recent (Brendan Perry) - bass, vocals
Johnny Volume - guitar
Des Truction (aka Des Hefner) - drums
Mike Lesbian - vocals on track 3

From the liner notes:

This compilation contains all of the original 1980 release AK79, this being tracks 4 to 15 (in the original order), first released on Ripper Records RPR1, plus various singles and unreleased tracks from the era 1977-80. Compiled by Simon Grigg, Roger Shepherd and (the original AK79) Bryan Staff. Band notes by Simon Grigg. Photos by Jonathan Tidball, Anthony Phelps, Bryan Staff, Murray Cammick, Peter Cathro. Artwork repackaged by Andrew White for Revolver Design. Mastered at Airforce Studios Auckland, September 1993, by Luke Thomas.

Some of the origianl tapes from this period have either been lost, or thrown out when the pressing plant closed, so a few tracks have come from vinyl, giving the odd crackle here and there. Unfortunate but unavoidable.

Special thanks to Real Groovy Records, Queen Street, Auckland, without whom parts of this would have been impossible. Dedicated to the bands from the Auckland punk scene that didn't make it onto vinyl: The Masochists, Atrocities, Aliens, Rednecks, Mucky Pups, Idle Idols, Zerox, Dentists, Repectables, Brunnettes, Phantoms, Junk, Berlin, Electrabeat, Secret Agents, Stimulators, Sheerlux, Europe, Abortions, Superettes, Assassins, Hookers, Front Line, Courduroys, The Fire Engines and the rest. Plus the crucial venues: Moody Richard's/Crofts, Diamond Dogs, State Theatre, Disco D'Ora, Zwines, State Theatre, Classic Cinema, Globe, XS Cafe, Mainstreet and many others.

Tracks 3, 4, 5, 6, 7, 8, 9, 10, 11, 14, 17, 18, 21, 25 copyright control.

The Scavengers / Marching Girls

The Scavengers came out of the ATI graphic design course in early 1977, originally a four piece with Mike Lesbian on vocals. Johnny was a big Iggy, Kiss, New York Dolls, Keith Richard fan, and their early sets were all covers of these bands, and early punk classics. They used to have regular practice session/parties in Customs Street. We were at one when two cops tried to shut it down, before being locked into a broom closet. The Scavs and the Reptiles were almost inseparable throughout 1977, but when Zwines opened the Scavs became the resident band. They recorded an unreleased single for Polydor. In March 1978 Mike Lesbian left and Ronnie [Brendan Perry] took over vocals. The new Scavs used to practice on our front lawn in deepest Remuera, before embarking on the longest series of farewell gigs in history. This did not go down well with the neighbours. In mid 1979 the Scavengers moved to Melbourne where they became the Marching Girls, returning to sellout gigs in early 1980. They also toured NZ with The Birthday Party in 1982, although minus Ronnie. Ron had moved to London (from whence he came), changed his name back to Brendan Perry, and signed to 4AD Records as Dead Can Dance, who in 1993 were still recording.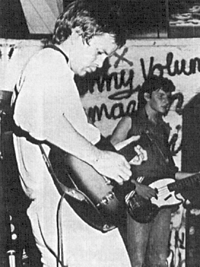 Johnny Volume and Ronnie Recent (Brendan Perry) at Zwines